Sesam has taken the challenge to solve one of the most frustrating aspects of running complex data architectures. Namely how to efficiently search and navigate data across all systems. Meet our new feature Integrated Search!
Up until now, Sesam has focused on delivering data efficiently to the systems that need data, in the form they need it. And throughout the years, Sesam, as a company, has been "taking its own medicine" and used Sesam extensively.
We have used Sesam as a master data hub for all our core data, and we have synchronized data with Salesforce, EventBrite, Visma, CurrentTime, Jira, Difi, Druid, PowerBi, Azure, Planner, Slack, HubSpot, Stripe, Arrow, Smetric, Synapse, OpenRates, GitHub, AD, Tripletex, Youtrack and Zendesk.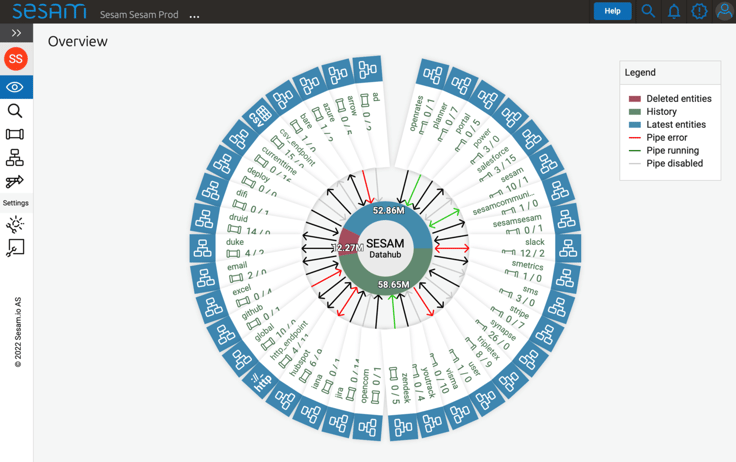 Data from companies, people, subscriptions, projects, tasks, products, exchange rate, orders, and invoices, are all gathered in common data objects across several data sources. All types of data have continuously been updated at the systems' own premises, formatted in a way that meets the needs.
The struggle of the data maze
With hundreds of millions of objects in the datasets, the searching has been slow, and practically impossible. All data has been gathered and assembled, but unavailable and unable to cover all needs. This has at times caused a lot of frustration.
As a result, experts at Sesam have spent a lot of time searching for and retrieving data, both in a troubleshooting and problem solving, but also when talking to new systems. We needed a solution to navigate the maze of data, and fast!
Solving the puzzle
All the frustration and the struggles to find data could now be over, as we are proudly sharing with you that a new data search feature is available for our users.
With the new search function, that can be turned on per subscription, all core data can be fully indexed inside Sesam. You can freely search, filter, and navigate all data from all systems. The function works both quickly and efficiently!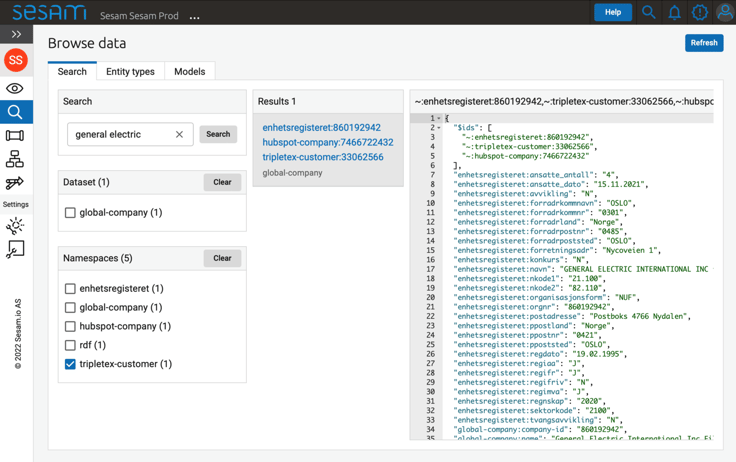 Not simply a faster search
The searches are fast across systems, but you will also gain complete navigation between all objects. All the data in Sesam has a semantic context, and because of this, connections between data objects in practice act as a link. With Sesam's new functionality, all foreign keys will be exposed as clickable links. It's not only possible to search for objects, but you can also navigate across them, see connections, and collect knowledge in a whole new way.